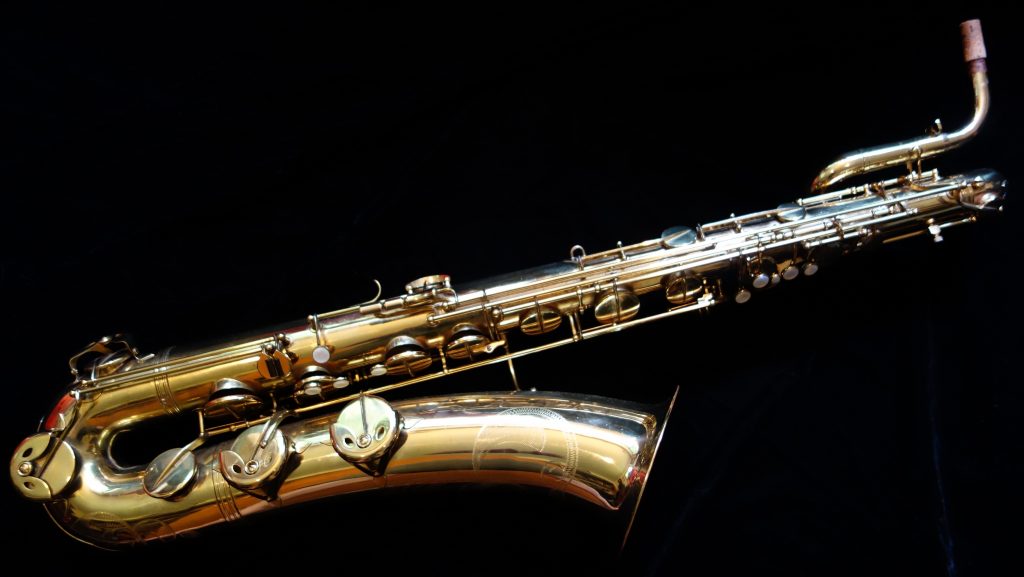 She was starting a few minutes late, but it was close enough for jazz. She scanned the crowd. Not huge, but decent. Almost all white men, of course. The few exceptions looked like dates who probably don't like jazz anyway. She decided standards would be best. As she called "Body and Soul", she saw him. There was something different about him, but it was hard to pin down. He was nice looking, but not in a standout way. He seemed to be separate from everyone around him. He was at a table with people but didn't seem a part of the group. She was rapt until her drummer coughed. She counted, the pianist played the intro, she raised her bari to her mouth and started playing.
—
He was sitting at a table with a couple friends. He felt a little bad. They were there for him, he was the jazz fan, but he really wanted to be almost anywhere else. He didn't know the band and wasn't in the mood. He was lonely, but the kind that made him want to be alone. His friends were discussing the woman with the saxophone. They agreed she was pretty but couldn't agree on how pretty. He thought she was a nine, easy, and a ten if she could play. Not that it mattered. He was a sucker for musicians, though.
They were finally getting ready to start. The pianist started the intro to "Body and Soul". He snorted. There's nothing wrong with the tune, he just preferred listening to things he hasn't heard a million times before. Then, she entered, and everything changed for him. She barely stated the melody before starting her solo. Half the crowd probably missed it. Her tone was perfect. It was round and fat, with just enough rasp. It had grit without braying. This was something he had never heard before.
—
When she started playing, she saw him look up. She couldn't decipher the look on his face. At least he was paying attention. She closed her eyes, afraid of getting distracted, but she could still see his face. The rest of the audience disappeared; she was playing for him. She was going to tell him everything about herself. She just hoped he was sensitive enough to understand.
—
As the pianist started a solo, he waved to a waiter, "Does she play here often?"
"First time."
He felt luckier than he'd ever been. If he'd bailed on his friends, he would have missed her. After one tune, he felt like he knew her.
She started "Lotus Blossom" unaccompanied. He hung on every note. She was kind, but not overly gentle. She was adventurous, daring even. The rest of the quartet came in after one chorus. He wanted her to play forever, but it was too intense. He felt some relief when someone else took a solo, yet he missed her.
—
On a hunch, she called for "Blood Count". He seemed like a Strayhorn fan. She knew she had his attention now. She had a feeling he was understanding everything. He never took his eyes off her. She'd experienced more than her share of lecherous men. That's one of the dangers of the job. But this was different. He looked at her as if he cared.
—
"Blood Count", it's like she knew he loved Billy Strayhorn. This felt so intimate he was almost embarrassed. He was desperate to tell her everything. She was baring her soul and he was still a stranger. He had to correct that.
—
She called "Straight, No Chaser" to close the set. She felt the need for something upbeat, so she counted it quite a bit faster than usual. She wanted to show off a little. She would approach him after the set. She thought he was getting it, but she had to know.
—
This "Straight, No Chaser" was cooking. Way faster than Monk ever played it. And she brought a sense of joy to it. Her lines were soaring. He could tell she was a happy person. He had to tell her how much he appreciated this, how much he appreciated her.
—
When the set ended and the audience started clapping, she was surprised, and he was shocked. Both had forgotten there were other people in the room. She put her sax on its stand and stepped off the stage. He stood up. They met about halfway between the stage and his table.
"Hi," she said.
"Hi."
Recommend

0

Simily Snaps
Published in All Stories, Contemporary Fiction, Fiction, Flash Fiction