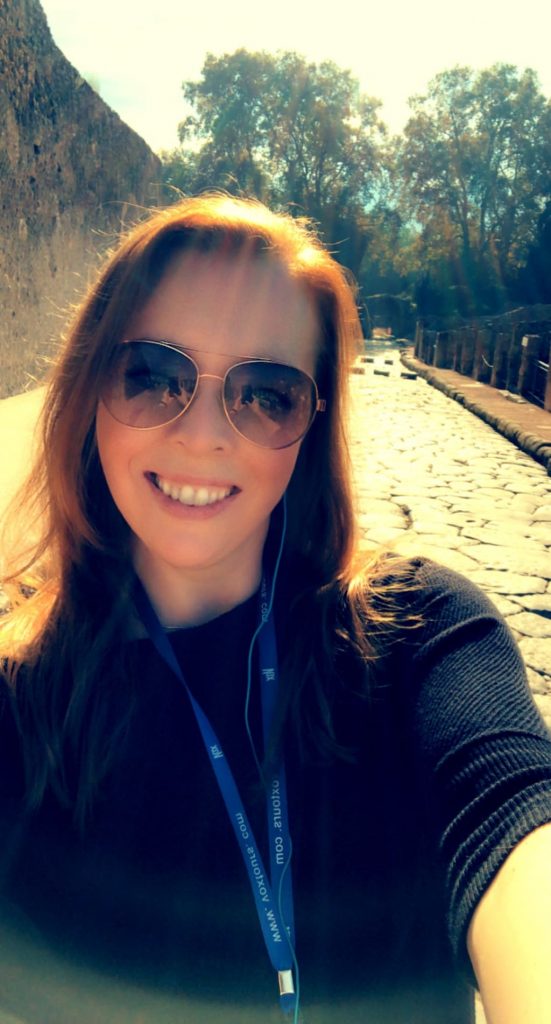 Time Stands Still in Pompeii
I walked the path of gladiators, sailors, and shopkeepers from 79 C.E.
Entering the gates of Pompeii, I was awestruck by the monstrous gladiator statue at the base of the mighty Mount Vesuvius. It's difficult to fathom how such an already-intimidating force of nature was at least three times larger than it is now due to its fatal eruption mid-morning, 79 CE. It was also challenging to understand how I was standing on a location where ships used to dock and made Pompeii a vital port of Italy.
Today, the city is 2 km (1.3 miles) tucked in the foothills of the mighty mountain.
Walking the gradual incline into the heart of this 2,000-year-old Roman town, I cannot help but run my fingertips over the eerily preserved stone walls knowing that less than 300 years ago that it was rediscovered.
Once inside the city, the first spot I visited was a courtyard where the gladiators trained with the intimidating Mount Vesuvius in the background.
Inside the uneven streets of Pompeii, it is difficult to imagine the cobblestone pathways once as perfectly even and seamless as I wander up and down the sidewalks concerned that I might sprain an ankle. On one side, I see an old wood fire oven once used to make pizzas, while on the other side, I am about to enter The Lupanar — the largest pleasure house in existence in the ancient city.
Here, the she-wolves of the night would make their howls calling to the sailors who just disembarked their ship looking for a good time.
If the drunken sailors were too intoxicated to find their way to this house of pleasure, all they need to do is look at the ground for directions giving G.P.S. a whole new meaning: Ground Penis System.
When I thought the tour could not get any better, my new friend Cheri (an opera singer) burst into a song in the middle of the amphitheater. Famous singers like David Gilmore and his guitarist from Pink Floyd, and Frank Sinatra have performed in the Pompeii Amphitheater. Now — standing next to me — Cherie graces us with her angelic voice.
Of course, it's difficult to visit Pompeii and not lay eyes on those victims preserved in the ashes of Mount Vesuvius and pay tribute to them.
Many faced the wrath of the volcano and their last moments of turmoil etched over their bodies. Of all of the casts seen, one, in particular, moved me: Seeing the agony and fear of a preserved man weeping that the gods are punishing Pompeii.
While there, our guide stated that there is a saying that Italians have when you're having a bad day:
"Is Mount Vesuvius smoking? If not, then it's a good day."
Considering Mount Vesuvius is the only active volcano on the mainland of Europe and is overdue for an eruption, that quote seemed even more fitting. Many scientists believe that there is no doubt that it will erupt again, and when that day comes, it will be a dark day for more than 60,000 people living inside the "red zone." It's not really a question if Mount Vesuvius will erupt again, but when and when it does, it'll be another dark day for Pompeii.
Famished, my group makes it safely back down to the tour bus to transport us to Cantina del Vesuvio Winery, where pizza, pasta, and wine await us. Here, we fill our bellies and are grateful for the lives we are living.
Originally published on Medium, Vocal, and Crystal's Writing Room.
Recommend

0

Simily Snaps
Published in Adventure, Happy Read, Memoir, Non-Fiction, Personal Narrative, True Story